ST JOHN'S WORT WORRIES
ST JOHN'S WORT RECALL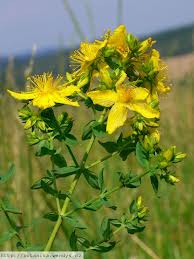 This week six batches of St John's Wort products have been recalled because they have been found to contain  high levels of a toxic pyrrolizidine alkaloid (PA). As PAs are not found in St John's Wort it is thought that the products have been contaminated with weeds collected during harvest. Certain PAs can lead to liver damage if taken over a period of time and anyone using the affected products should stop using them for themselves or their pets straight away.
Whilst it is good news that these products have been tested, and a problem detected, it is concerning that the manufacturers do not appear to be taking the quality of their raw ingredients seriously enough. We have previously discussed herbal remedies which don't contain any of the active chemicals, but accidental contamination and deliberate substitution of herbs are also risks.
The herbs that we supply come from companies which only supply trained herbal practitioners. They produce herbs to the same standard as pharmaceutical drugs, and check the chemical profiles of their products to ensure quality and safety.
For safe, effective herbal medicines for your pet always consult a trained Veterinary Herbalist!
For information on the recalled products:
https://www.gov.uk/government/news/precautionary-recall-six-batches-of-st-johns-wort-tablets
To find a Veterinary herbalist near you:
http://www.herbalvets.org.uk/