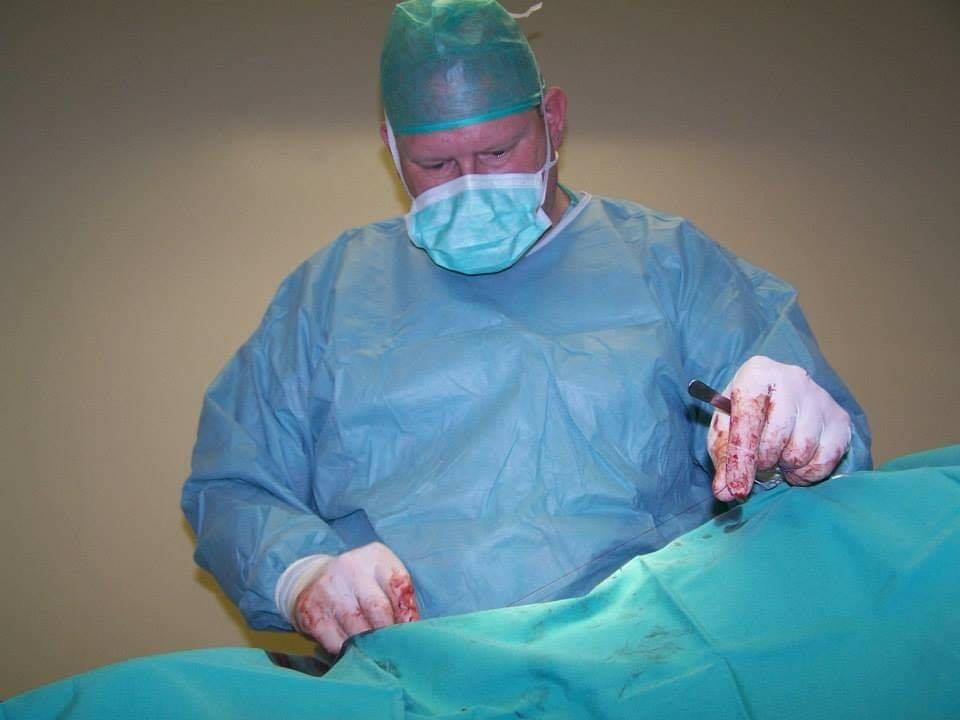 You've taken your puppy to the vets for their final puppy vaccination. The vet hands over the completed vaccination card, gives your puppy a treat and the says, "the next big thing is neutering, shall we get them booked in?" Yikes!
WHY IS MY VET ASKING IF I AM GOING TO NEUTER MY PUPPY?
Vets want to get a lot of information across to new puppy owners in a short space of time. Vets want you to think about your dog becoming fertile well before they do. Vets want to avoid accidental mating, unwanted litters, roaming dogs, and avoidable diseases associated with 'entire' dogs.
I like to introduce the dog reproduction question by asking, "are you planning to neuter your dog?" as this allows my client to guide the rest of the conversation. If they answer, "we are hoping to breed" I can discuss health testing, mate selection, all the scary negatives, and all the lovely positives. If they answer, "yes, when should we book the surgery" I can discuss the optimal time based on their individual circumstances. If they answer, "we don't know" again, this opens up a different discussion on the pros and cons which take their circumstances into account.
SHOULD I NEUTER MY FEMALE DOG?
Most female dogs will experience their first fertile period (called a 'season' or 'heat' between the age of 6 and 18months. Larger breeds tend to have their first season later than small breeds, and the pattern often follows that of their mother. The average time between seasons is 7 months, though some bitches will only have one season a year.
During her season your bitch will have swelling of her vulva, a bloody discharge from the vulva, and she will become attractive to male dogs. The season lasts 21-28 days for most bitches with a fertile window from day 10 in the average bitch. With rapid hormonal changes you may seem changes in your dog's temperament. During her season your dog should not be walked where other dogs might be off lead and she should not attend training classes or competitions. If you own both male and female dogs they should be kept apart during her season. Neutered male dogs can mate and tie with a bitch and if this happens when they aren't supervised injuries can occur to both dogs.
Around 2months after her season your bitch may show signs of pseudocyesis (false, or phantom pregnancy) because she has very similar hormone levels after her season if she is pregnant and if she is not! False pregnancy usually shows as swollen mammary glands with some milk production, but it can cause a swollen belly, false labour, and behavioural changes.
BENEFITS OF NEUTERING YOUR FEMALE DOG
No seasons. This is useful for mixed groups of dogs and working/ sporting dogs where being out of action for two months of the year is undesirable.
No pregnancy. Although it should be simple to prevent unwanted mating, and despite there being drugs available to stop a pregnancy after a mismating, removing the risk of accidental puppies is a key factor in many owners choosing to neuter their female dog. This is also the prime reason rescue centres will neuter, or rehome on a neutering contract.
Reduced risk of mammary cancers. The studies on mammary (breast) cancer risk in dogs are old, but it is probably still valid to warn that the risk of mammary tumours increases exponentially after the first season. Neutering at any stage is believed to halt the risk (but not reduce it further).
Prevention of uterine disease. Pyometra is a life threatening infection of the womb which might affect as many as 1 in 4 bitches over 8 years (based on insurance company data from a country where routine neutering is banned). Uterine cancers are less common.
Other cancers. The risk of some other cancers is reduced by neutering. The research is breed specific and should be discussed with your vet.
RISKS OF NEUTERING YOUR FEMALE DOG
Surgical risk. All surgical procedures carry a risk of incidents, including death. The bitch spay is the most dangerous operation that vets do on a daily basis. Very young, very old, overweight, and sick animals are at higher risk.
Behaviour change. Most bitches have the same temperament after spaying as they did between seasons. In rare cases a bitch can become more aggressive after neutering, but these are usually slightly aggressive before and it is thought they have been masculinised in the womb by their male siblings.
Musculoskeletal problems. Several joint problems may be more likely in neutered bitches. There isn't a clear causal link in all cases and the link could be due to higher rates of obesity in neutered dogs, different exercise patterns, or other environmental factors. Neutering before bone growth has stopped can alter the lengths of the leg bones and this could be a factor in joint problems.
Other cancers. The risk of some cancers is increased by neutering. The research is breed specific and should be discussed with your vet.
Urinary incontinence. Urine leaking is more likely in spayed bitches and may occur earlier than in entire bitches. It can be controlled with medication.
Weight and coat changes. Neutered females are at a higher risk of weight gain and long coated breeds may develop a fluffy coat. These effects can be managed!
TYPES OF NEUTERING FOR FEMALE DOGS
Traditional Ovariohysterectomy (spay). This option is still the most common in the UK. The vet makes an incision (from a few cm's to the full length of the belly) and removed the ovaries and uterus. This operation takes 30-60minutes and dogs go home the same day. This option is suitable for all dogs, including older dogs who may have uterine disease. Exercise should be restricted for 4-6weeks.
Ovariectomy. This is a popular option in Europe where the ovaries are removed but the uterus is left. There is no risk of pyometra if the ovaries are fully removed. This option is most suited to young botches where there is a low risk of uterine disease. Ovariectomy can be performed through a traditional incision or by laparoscopic surgery. Recovery is still 4-6 weeks.
Laparoscopic spay. Increasingly popular as initial recovery may be faster and the incisions might be smaller, but the set up and anaesthetic time can be longer. Usually the ovaries are removed, but the uterus left, so this is more suitable for younger bitches. Full recovery still takes 4-6 weeks!
Medical options. An injection can be given to delay or prevent seasons. It can only be used after the first season and can increase the risk of pyometra and future infertility.
Hysterectomy. Also called 'ovary sparing spay' this is one which I do not believe has a place in UK dog care. The uterus is removed but the ovaries are left so the risks and benefits are the same as for an entire bitch (other than pregnancy), except that you have added surgical risk.
Tubal ligation. Useful in humans, but again, this leaves you with all the problems of an entire female apart from pregnancy.
WHEN SHOULD I NEUTER MY FEMALE DOG?
Peadiatric spay 12-16weeks. This is not common in the UK, but is requested by some breeders prior to sale, and may be done by rescue centres. The advantage is population control pure and simple and avoids having to follow up on neutering contracts. Many vets have concerns about the effects of puppies not having a normal hormonal influence as they develop, both on behavioural and physical health. Luckily, these are usually small breed dogs with lower overall risk of joint problems and where juvenile behaviour may be preferred.
Pre-pubertal spay 6-7months. This has been the preferred option of many vets and assistance dog charities for some time. The surgery is easier as the dogs are slim , and there is no complication about timing around seasons and no loss of training time at a critical stage for working dogs. Neutering at this age keeps mammary tumour risk to a minimum. These surgeries can be booked in at the last vaccination which avoids clients forgetting to book. More recently, studies have suggested that neutering larger breeds prior to puberty and the end of bone growth could increase the chance of joint problems and some cancers. Now I would recommend spaying at this age only for toy and small breed dogs or where circumstances mean that a season would be very difficult to manage.
Post- puberty. This is my preferred option in most cases where a dog is not required for breeding or showing. For most breeds of dog neutering 3-4 months after their first or second season at 18-24 months gives the best balance of risks and benefits. It is vital that there is no sign of phantom pregnancy when the bitch is spayed.
Post- puppies/ end of career. I work with a lot of working dog clients and clients who wish to breed their dogs. For these dogs I advise neutering once the breeding or competition career is over. At 7-8 years old the bitch is still fit and well enough for routine surgery, but we can remove the risk of pyometra as she gets older. I often see uterine disease in older bitches, and owners report they are 'happier' and 'act younger' after surgery so I can only imagine some have been suffering uterine pain.
No neutering. Of course, there is the option to not neuter at all. If you chose this option make sure you check regularly for mammary lumps and keep notes on the dates and duration of your dogs seasons. If you notice heavier bleeding, bleeding between her normal seasons, or symptoms of pyometra contact your vet for advice urgently.
NEUTERING MALE DOGS
Most of this blog concerns female dogs as the options, risk, and benefits are more complicated. Most clients want to neuter their male dogs because they are worried about aggression, but male hormone related aggression is really not very common. More dogs come to me with variations of fear aggression, and neutering these dogs could make them worse. Neutering male dogs will reduce urine marking, searching for females, male aggression, and distress over in-season females. It won't calm him down or make him easier to train!
Puberty in male dogs happens from 6 months old, and will happen later in larger dogs. There will be behaviour changes as testosterone surges and falls and your dog may show mild aggression to other dogs at times. I prefer to manage male dogs through puberty and neuter them when their behaviour is stable if required.
BENEFITS OF NEUTERING MALE DOGS
Reduces 'male' behaviours including roaming, marking, and male aggression.
Removes the risk of testicular cancer and reduces the risk of perianal adenoma and perineal hernia.
Prevents benign prostate enlargement, but not prostate cancer.
Prevents pregnancy. Does not always prevent mating!
RISKS OF NEUTERING MALE DOGS
Surgical risk. Although castration is less dangerous than spaying there are still anaesthetic risks and potential for complications.
Behaviour change. Nervous dogs may become more fearful after neutering.
Musculoskeletal problems. A higher risk of joint disease is found in neutered male dogs, but, as with females, there could be factors such as obesity and exercise at play as well as direct effects from neutering. As with females, neutering before growth plate closure can alter the length of bones.
Cancers. The risk of some cancers increases with neutering. These risks are breed specific and should be discussed with your vet.
Weight gain and coat changes. As with female dogs, neutered males are prone to weight gain and long coated breed can become fluffy.
TYPES OF NEUTERING FOR MALE DOGS
Castration. The testicles are removed, the scrotum is usually left unless diseased. This is the most common form of neutering for male dogs in the UK. Fertility declines very rapidly (days) but male behaviours related to testosterone will take a few weeks to decrease.
Medical castration. An implant is available which stops testosterone production. The testicles shrink, but most dogs will become fertile again when the implant wears off, and it can be removed. There is a risk of increased aggression in the first 4 weeks after treatment. A shorter acting injection can also be given but this can give different behavioural results to castration.
Vasectomy. Removing a section of the vas deferens makes a dog infertile but otherwise he will behave as an entire dog. It is an uncommon procedure in the UK for dogs.
WHEN SHOULD I NEUTER MY MALE DOG?
Neutering is less time dependant in males than in females.
Paediatric neutering 12-16weeks. This is carried out by a few breeders and rescue centres before rehoming to prevent breeding. The effects on growth and behaviour are not well studied but many vets have concerns about removing hormones at such a young age.
Pre-pubertal 6-7months. This is most suitable for toy and small breeds who have finished growing but care should be taken to avoid neutering when a dog is entering puberty and has an unstable temperament.
Post-pubertal neutering. Recommended for most dogs which need to be neutered. The appropriate age will depend on the breed and also how long the effects of puberty last. Medium breeds can be neutered from 12-18months of age, but large and giant breed dogs may benefit from later neutering. There is no upper age limit for neutering, but in mature dogs may require the removal of the scrotum to reduce the risk of post-op complications such as swelling and haematoma development.
SO, WHEN SHOULD I NEUTER MY DOG?
Pet guardians and vets would like a simple answer, but the truth is there isn't a one size fits all recommendation. Review studies have assessed all the current data to try and suggest minimum neutering ages for common breeds that take into account all the positives and negatives, but environment and lifestyle are important factors too. The bets advice is to discuss neutering with a vet your trust in order to make a plan to suit you and your dog.